Contact Us
You can send us an email using the form below or contact reach us by:
Frequently Asked Questions
Q. How do I subscribe?
Q. How do I change a website user name or password?
Q. How do I pay an invoice?
If you want to pay an invoice by credit card, and didn't have a pay now button on your email invoice, you can call us to pay by phone at 918-252-7791 or send a check to the address listed on the invoice.
Q. How do I cancel a subscription?
Q. How long have we been in business?
Frontier Weather began operations during the summer of 2003, and we have steadily increased our selection of services since then. We plan to add additional services in the coming months including historical and forecast data for Mexico, wind farm forecasts for Canadian wind farms (we already forecast for nearly every US wind farm), and solar power generation forecasts.
Q. When are our forecasts updated?
We issue morning and midday weather reports Monday through Friday (except holidays), with some reports issued on Sunday morning as well. On regular business days we issue a quick morning preview report around 5 AM CT, followed by our site-specific forecasts around 6 AM CT, and our full weather summary report around 7 AM CT. Our degree day data and report are issued by 7:30 AM CT. We issue a quick midday report around 11 AM CT (12 during DST), followed by our updated site-specific forecasts around 12 PM CT (1 PM during DST), our full midday weather summary by 1 PM CT (2 PM during DST) and our degree day data and report by 1:30 PM CT (2:30 DST). Tropical reports are issued as needed during the hurricane season, but at least once per day, while our seasonal reports are issued twice per month, generally on the Wednesday nearest the middle and end of the month.
Q. How to we prepare our forecasts?
Our forecasts are not generated by an automated routine, and so the exact forecast process varies from day-to-day. In general, our forecast starts with a weighted model blend of the GFS, GFS ensembles, ECMWF (through day 10), ECMWF ensembles (through day 15) and Canadian ensembles. Each of the forecast models undergoes an automated bias correction based on that models forecast weather regime prior to being blended together. So, the ECMWF model, for example, will not be bias corrected the same everywhere when the pattern features a cold western US and warm eastern US as it will be when the pattern features a warm western US and cold eastern US. The bias corrections also vary by forecast day, so day 10 isn't bias corrected the same as day 2. The weights we use when blending the models together into a single forecast vary by forecast day and from one forecast update to the next. On average, the ECMWF operational and ensemble models are weighted higher than the GFS operational and ensembles as well as the Canadian ensembles since those products generally perform more accurately. Once our base forecast is produced, we make adjustments throughout the 15 day forecast period based on overall pattern expectations, model trends over recent days, and other climate indicators such as the MJO, current and forecast phases of the AO/NAO and other indices.
Q. For how many locations are forecasts currently available?
Presently, we have site-specific hourly and daily weather forecasts (as well as historical data) available for over 300 US and Canadian cities. We periodically expand the number of cities we forecast for and we do plan to add forecast locations in Mexico in the future.
Q. How much historical hourly and daily weather data is available?
We currently have historical hourly and daily weather data available for more than 300 US and Canadian cities. Our period of record varies by city, with daily data going back as far as 1948 for some cities, while we only have daily data available for other cities back to the 1970s. Some locationa may have an even smaller period of record. You can see our period of record for some locations on our data store page here:
Weather Data Store
.
We don't have as long of a period of record for hourly data, though we have data for some cities back to 1998, and many cities back to 2004. More recent additions to our database may only extend back a few years.
Q. What type of model graphics do we have available?
We currently produce forecast model graphics for the GFS, GFS ensembles, ECMWF operational and ensembles, CMC operational and ensembles, as well as some other models such as the NAM and CFS. We have forecast 2 meter temperature anomaly, precipitation and snowfall forecast maps available for all the major forecast models (including the ECMWF operational and ensembles) with some additional products available for some models. We also have a number of additional products for the ensemble models (ensembles of the GFS, ECMWF, CMC), including individual forecast members, warmest and coldest solutions based on population weighted averages, averages of the 10 warmest and 10 coldest solutions, as well as ensemble spread graphics. Some graphics are updated in real-time as the model data becomes available, while other graphics are updated once the model run is complete. We are slowly adding additional features and graphics to our model data collection. If there is something you are interested in seeing, please let us know.
Q. How do we calculate our heating and cooling degree days?
Q. How accurate are our forecasts?
Our 15 day forecasts have historically matched or outperformed most of the main forecast providers in the energy weather sector. During 2015, when looking at forecasts for individual cities, 98% of our daily forecasts in the 1-5 day period were within 5°F (not the period average, but the individual days within the period), 79% of our daily forecasts in the 6-10 day period were within 5°F and 62% of our daily forecasts in the 11-15 day period were within 5°F. A plot of average absolute errors for all forecast locations over the last 90 days can be seen below.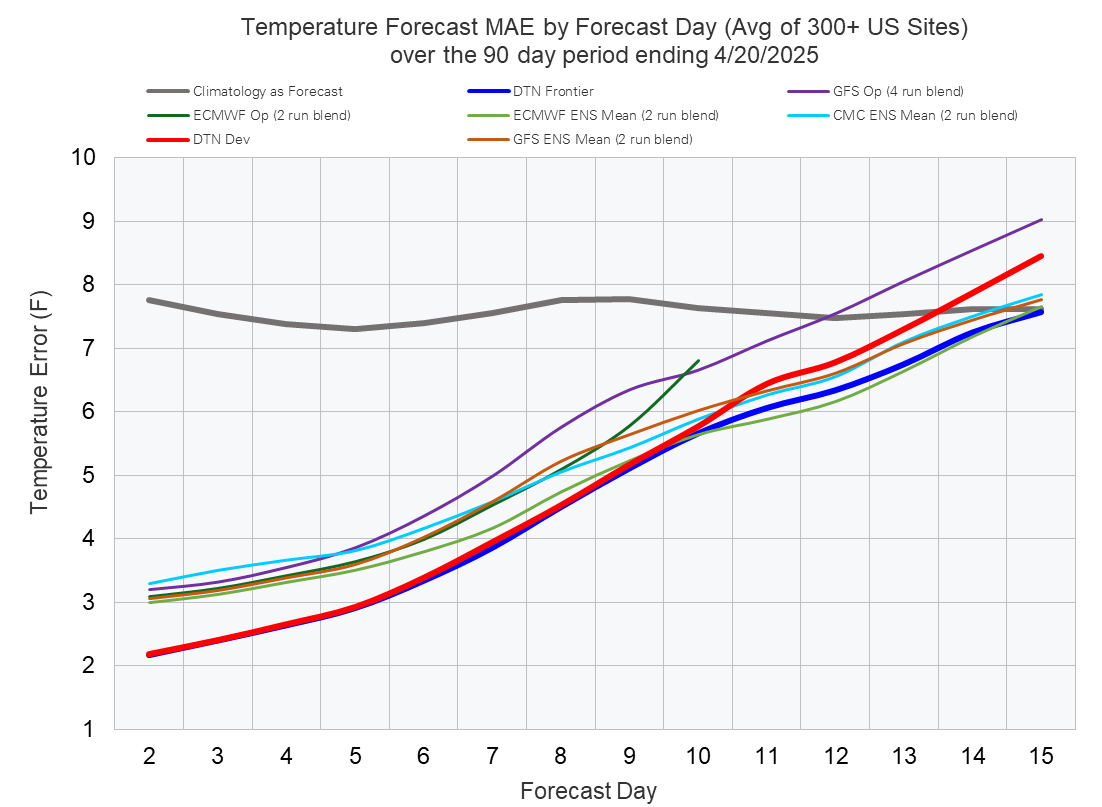 Q. Do we allow redistribution of our forecasts?
No internal redistribution is permitted beyond the number of users in your subscription package, though analyses you create using our data can be internally redistributed. No external redistribution of any reports or data is permitted unless specifically stated in your subscriber agreement. Redistribution rights can be added to your subscriber agreement for an additional fee. Rates vary considerably based on the amount of information being redistributed and the number of users the information is being distributed to.